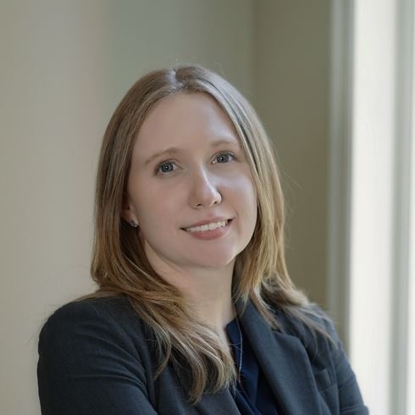 Jodi Durham
Bio
Jodi Durham is a native of Charleston, West Virginia. She graduated summa cum laude from West Virginia University, earning a Bachelor of Science degree in journalism in 2011. Jodi developed an interest in the law through political science courses taken during her undergraduate career. After graduation, Jodi pursued that interest by working as a litigation paralegal in the personal injury department of a plaintiff's law firm. As a paralegal, Jodi worked on cases for individuals who had been wrongfully injured and were in need of help. Helping people became Jodi's goal.
In 2018, Jodi graduated from West Virginia University's College of Law. She honed her legal writing skills during that time, earning two CALI awards - an award given to the student with the highest grade in a class - in Legal Research and Writing, and working as a legal writing teaching assistant during her second year of law school. Jodi was also a member of the West Virginia Law Review for two years, serving as an associate editor, and executive research editor.
During her time in law school, Jodi spent her summers working for personal injury and employment law firms. She also worked as a student attorney in the Child and Advocacy Family Law Clinic during her final year of law school. These experiences allowed Jodi to advocate for West Virginia residents under the guidance of licensed attorneys prior to Jodi becoming licensed herself. Since 2018, Jodi has become a licensed attorney in the state of West Virginia and the United States District Court for the Southern District of West Virginia.
After graduating from law school, Jodi spent two years in Elkins, West Virginia, practicing as a general litigation attorney. There, Jodi advocated for clients in a multitude of cases, including employment, personal injury, and family law-related matters. She also acted as a court-appointed attorney, handling criminal cases for indigent individuals. Jodi's diverse caseload allowed her to continue fighting for injured individuals and develop her skills as an advocate in the courtroom.
Outside of the office, Jodi enjoys spending time with her boyfriend and two dogs, Thor and Loki. She is an avid reader and frequent traveler. Returning to Charleston means coming home to Jodi. She is excited to spend more time with her family and friends, and to continue helping those individuals in need from her hometown.